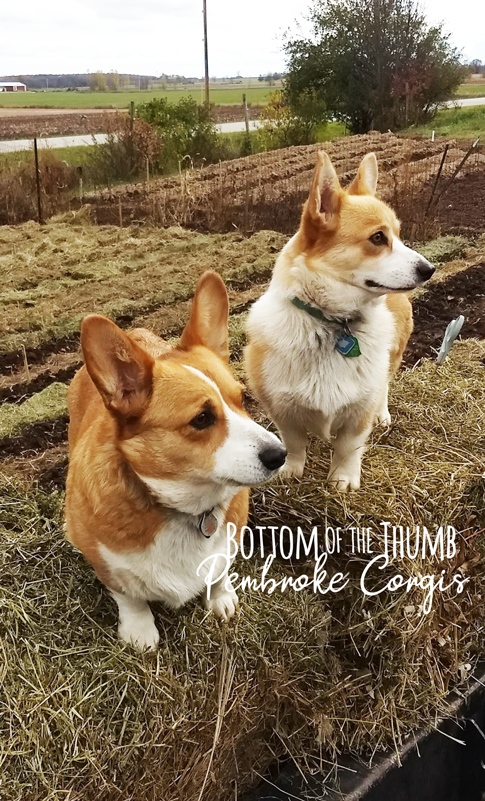 About Bottom of the Thumb
Pembroke Welsh Corgis
Tracy had a love for Corgis at a young age and loved them from afar as a Pembroke Welsh Corgi was virtually unattainable. But soon after she got her 1st Corgi in 2012 a second Corgi came shortly after. Then….literally stumbled into breeding Corgis when Gidget, unintentionally got bred by Tracy's male Corgi Butler. Ted growing up on a dairy farm, was very familiar with being around animals, familiar during birthing time, and the care needed in whelping. As such, it was pretty easy to whelp our first litter. It didn't take long to realize we were the only ones that were breeding Corgis in Northeast Wisconsin. So a year later we had a second litter, and it was even more popular!
It was only natural to be breeding Corgis on our small working organic farm. Specializing in garlic, hay, and eggs from our chickens. Our garlic farm continues to grow, as we continue to add new garlic varieties each year.
We feel confident in the quality of our Pembroke Welsh Corgi breeding stock. We breed our superb quality AKC registered Corgis for looks, vibrant health, and correct traits, but never at the cost of losing the warm loving and goofy personalities we all have come to love in the Pembroke Welsh Corgi. We are extremely picky when it comes time to look for our breeding stock, and quite often it takes years to find just the right one! This level of quality takes a lot of time, patience and work. Please understand this is also expensive. We know our Corgis will be in people's homes and will be their special companions for years to come, therefore we spend extra time with our puppies in early training and socializing, giving them the very best chance to adapt to their new forever home.
Though demand has increased over the years, we will never compromise on the quality of our Corgis. Nor will we "cut corners" to lower our costs, just to make our puppy price cheaper, as such practices only increase expenses down the road for our potential puppy owners. Just having puppies does NOT = a breeder. Recently there is an ever increasing number of "backyard breeders". Many take a LOT of "short -cuts" at the expense of the Corgi parents, and certainly at the expense of the puppies! A reputable breeder will have spent years looking for the right desirable traits in a good quality breeding pair. Often resulting in not only good looking Corgis, but will save the potential puppy owner hundreds if not thousands of dollars in health and vets costs in the years to come. Ask for a health guarantee! Reputable breeders will have a health guarantee. Will your puppy come with a vet examination stating the health of your potential puppy?
Research, research, research! A simple google search like "the top 7 breeders in Wisconsin" can get you started in the right direction. When looking at a potential breeder, do they constantly breed and always seem to have puppies for sale? Beware, you may be enabling "the modern puppy-mill". When looking at a breeder, do they seem to care more about selling puppies than they do about their Corgis? As food, care, supplies, and vet costs continue to climb, beware of a "cheap" puppy.