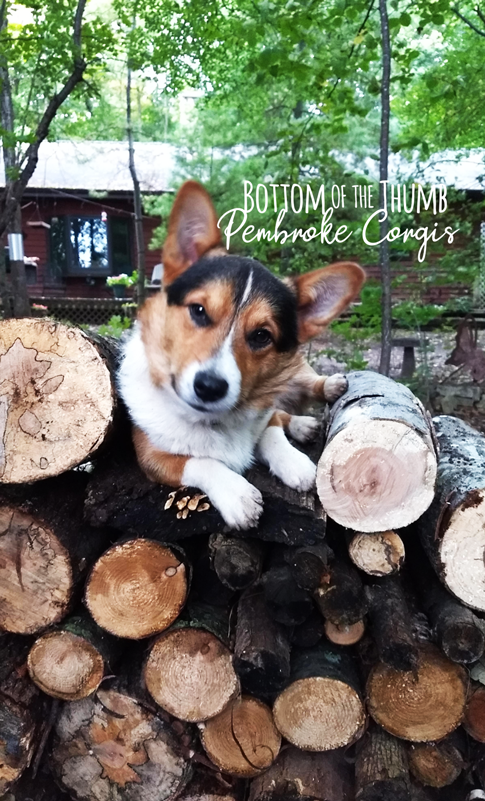 How much are your puppies?
We do not breed our Corgis multiple times a year, thus our puppies are not the least expensive, nor are they near the most expensive. We feel high quality shouldn't be out of reach, but we also do not cut any corners to save on expenses. We feel your potential puppy deserves the very best quality food, shelter, and vet care, and that starts with their parents. Doing so insures you receive the most healthy puppy possible. We do not post a puppy price as they can vary from year to year. But in an average year you can expect to pay $1500-$1800 for our beautiful AKC triple clear puppies. We sometimes offer discounts, so please feel free to contact us about those.
Do you ship puppies?
NO. We do not ship puppies at this time, as it is a very strenuous journey for a young puppy to be shipped. We recommend finding an airline that will allow you to "carry-on" your new puppy. Many have found this to actually be more economical, as shipping is quite expensive, especially for us as we are quite far from the nearest shipping city.
How can I make a deposit?
Before we accept a deposit from any potential puppy owner, we ask that they fill out our extensive application. Once you have completed the questionnaire and we are satisfied with your answers, you can send your deposit via PayPal. If you request and invoice, we can send you an invoice through Square to the email address provided on your application.
How much is a deposit?
We only ask for a $100 NON-REFUNDABLE deposit.
Do I need to have my puppy examined by my vet?
YES. You have 72 hours to have your new puppy vet checked by your vet. If your vet finds anything wrong with your new puppy, you will need to contact us at, Bottom Of the Thumb Pembroke Corgis, within the same 72 hours.
How often do you breed your females?
We only breed our girls in the spring. We feel they are happier and healthier by only having one litter a year, instead of two.
Are your dogs kenneled?
Absolutely NOT! We are a family, and our beloved Corgis are a part of our family.
Where are your puppies born?
All of our puppies are born right here in our home. We feel we can take better care of each puppy when they are in our home.
Are your puppies socialized?
Absolutely! Every puppy is handled and loved dearly from day one.
Are your puppies used to other animals?
Yes. Our puppies are used to being around other adult dogs, cats, and even chickens. Though they may tend to want to chase the chickens….
Have you done any genetic testing?
Mabel, Hazel and Oliver are genetically tested "A" clear of DM, free of EIC and VWD1, triple clear.
What happens to your dogs when they are retired?
Our girls are our personal pets, and they are also our house dogs, thus we get very attached to our girls. Our boys are mostly outdoor dogs. They get to go in and out as they please, and they clearly like it outside way more than inside. Sometimes we allow our boys to be adopted. But only to the right home.
Do you have a puppy/spay contract?
Yes, as this is very common, and good practice. View our agreement here.
Do you have a health guarantee?
Yes, we have a limited health guarantee that covers inherited defects. Health guarantee ONLY covers inherited defects that must be documented through an autopsy at the owners expense, per our guarantee document. You can request a copy of this guarantee, as it is quite long.